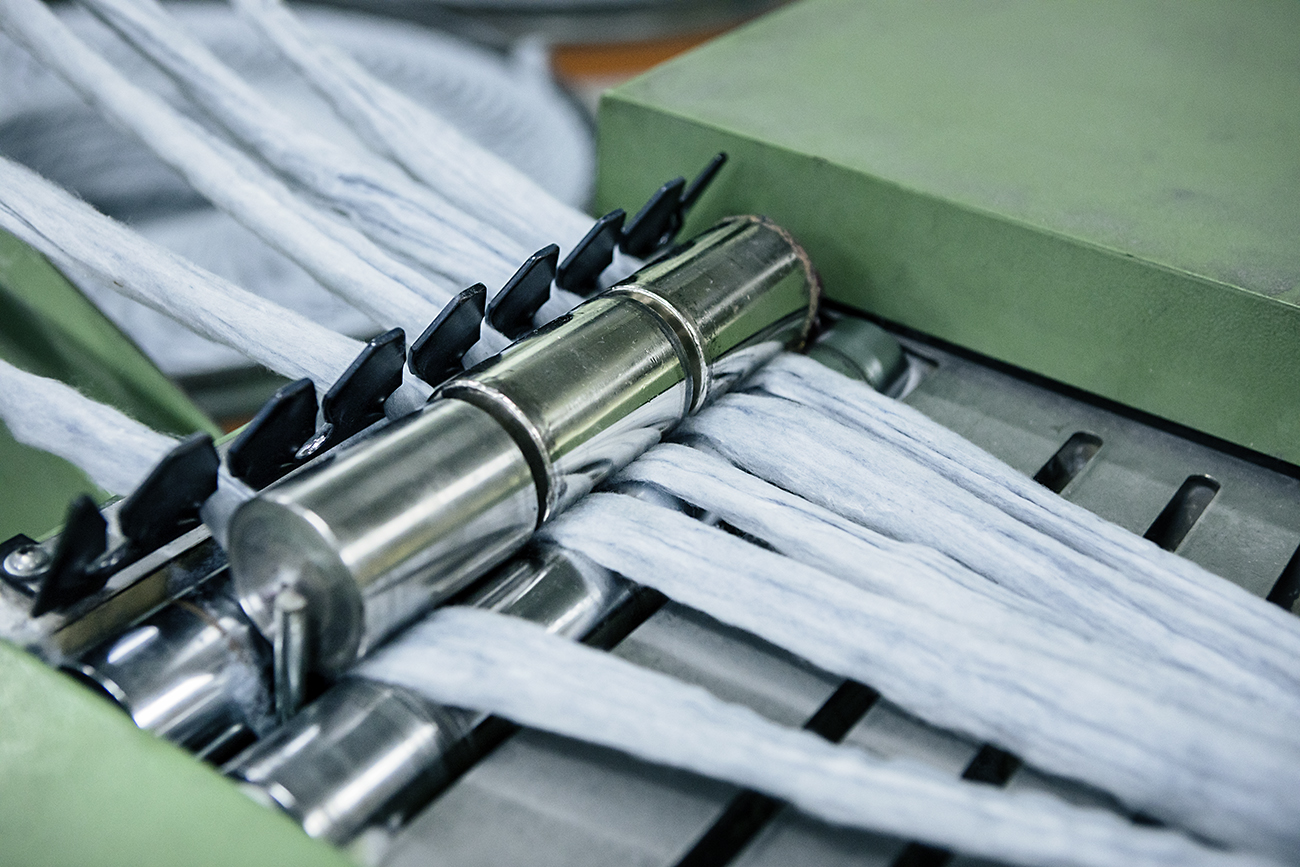 In search of the best denim circularity
During 2021 and 2022 Infinit Denim has developed an innovation project in post-consumer jeans recycling.
Our goal has been to use post-consumer denimas raw material to create new circular knitting yarns. These yarns have allowed us to create new fabrics with a minimal environmental footprint and excellent quality and durability .
One of the requirements for the creation of fibers has been not to use fibers of mineral origin, such as polyester.
We wanted 100% vegetable fibers and preferably organically grown. 
For the development of this project we have applied for a grant from the Waste Agency of Catalonia. This grant has allowed us to do all the research and development process prior to industrial production. 
The testing process was carried out with the support of the Polytechnic University of Catalonia. 
After a first stage of
research, three were selected 
fibers to create three different yarns, 
c
ach one with different
characteristics and that have given rise to 
to the current
ID collection.
Kapok thread
The first yarn developed has been a kapok yarn with composition: 10% DPC (post consumer denim), 20% kapok and 70% REFIBRA .Kapok is obtained from a tree whose fruits contain soft, light and silky fibers that look like cotton but by its nature does not need fertilizers or irrigation. Despite being grown far from Spain, it is a material with a minimal environmental footprint in its production, being impossible to balance with other fibers grown closer to home.
Kapok yarn has been used in garments that sought softness and lightness such as tricot garments.
Hemp Yarn
The second yarn developed washemp yarn, with 25% DPC, 25% hemp and 50% REFIBRA .Hemp, with its fast-growing crop, does not require herbicides or pesticides, and its sowing hardly needs any water, so the manufacturing process of its fabric uses up to four times less water than that of cotton. The yarns obtained with these fibers are more resistant and durable compared to cotton. They are fibers that aid breathability and insulation, which is why they have been used for winter tricot garments seeking to be warmer and thicker and for the limited edition production of our first denim fabric. The refiber is the result of a pioneering technology that involves recycling a substantial proportion of pre-consumer cotton waste with wood pulp, where the raw material is transformed to produce new virgin TENCEL™ Lyocell fibers.
Ecovero Thread
The third yarn is Ecovero. A yarn composed of 25% recycled post-consumer denim fiber and 75% ECOVERO. EcoVero is a type of viscose made from sustainable wood from controlled sources. Ecovero is the basic component of our winter "flat" fabric and with which we create all the "gray and color" of the 2023 summer and winter collection .
If you want to know the resulting products you can see them at: Infinit Denim